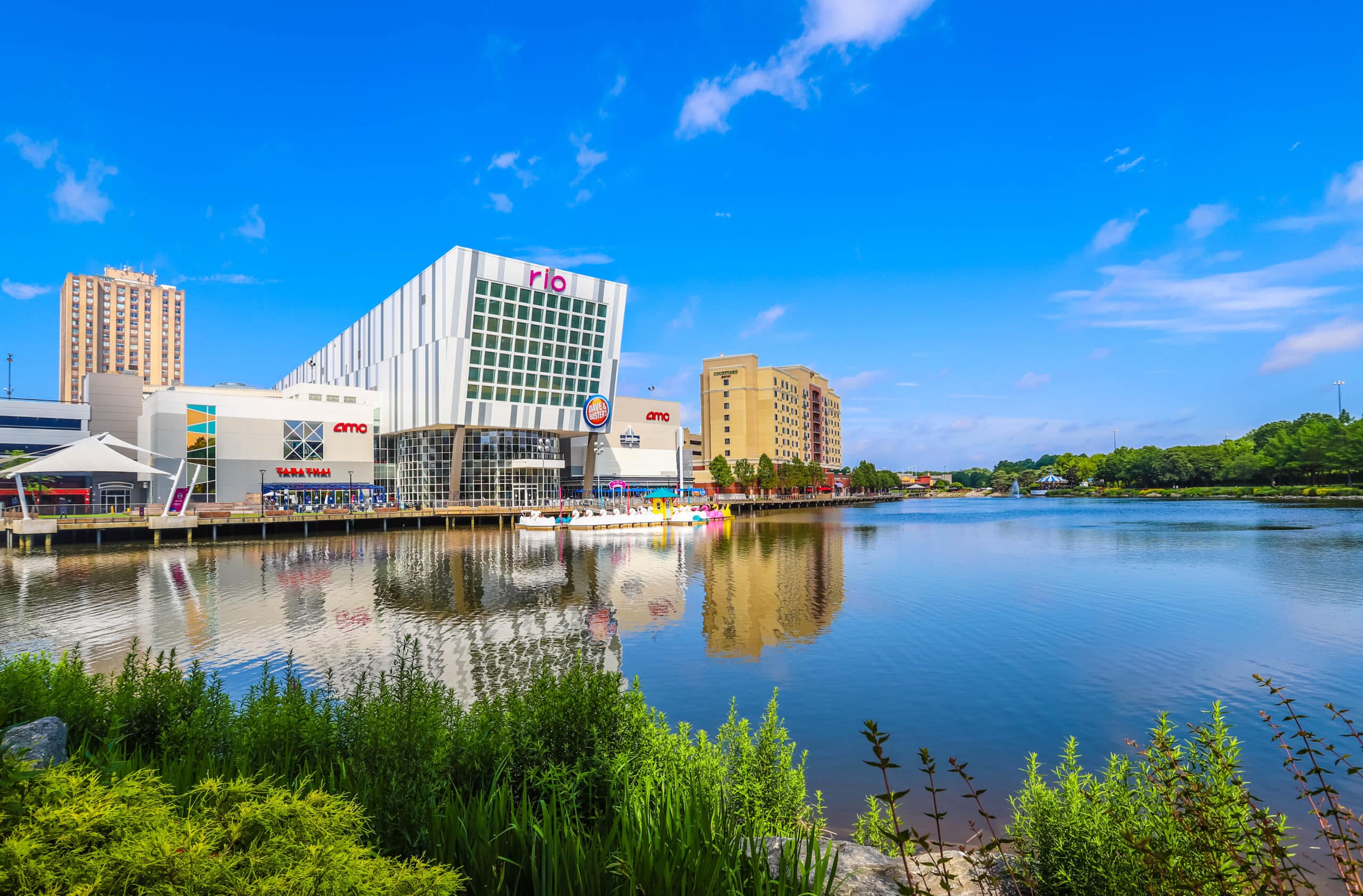 With a $30 million renovation nearly complete, rio in Gaithersburg, MD has elevated its distinctive blend of food, shopping, and entertainment to give residents and visitors even more options to make memories in Montgomery County, Maryland.
The first phase of the redevelopment was centered on the rio entertainment building and included extensive updates across the entire complex. Better connectivity to a new and expanded boardwalk, upgraded greenspace overlooking the lakefront, and generous seating options designed for today's social distancing standards are all recent additions. The refurbished pedestrian bridge is still a popular spot for a perfect lakefront selfie.
"We consider rio to be everyone's place," rio Regional Marketing Director Laurie Yankowski said. She explained that several goals of the refresh were to animate the experience around the property, make it easier for people to get around, and connect the inside to the outside.
Yankowski recently invited the Visit Montgomery team to spend the day at rio to learn more about the ways restaurants and retailers are
welcoming guests back
to the property. Social distancing signage, reminders to wear masks are all prominent along walkways and on door entrances. Restaurants have expanded their outdoor seating to accommodate those interested in soaking up the lakefront views while enjoying a meal.
"Guests will find little moments of whimsy and joy throughout the property," Yankowski said.
New activities including an obstacle course, and artwork by Luther Wright and ChalkRiot are dotted throughout the property. A new picnic scene featuring social distancing circles on a grassy hill overlooking the water was also a recent addition.
Here are 10 things to do this summer at rio in Gaithersburg:
Be the "I" in rio. And don't forget to tag the photo using #riolakefront and #visitmoco.
Sip a specialty cocktail on the Silver Diner patio. We recommend the Rum Berry Mule.
Ride around the lake in a paddle boat. The green dragon is our favorite.
Visit the picnic scene and lounge on your favorite blanket.
Take an eco-friendly swing with Splash City Golf, open on Thursdays.
Show off your summer style from South Moon Under.
Check out the inspirational public artwork by Luther Wright and ChalkRiot.
Hop, skip and jump down the obstacle course in front of Uncle Julios.
Indulge in an orange cream cupcake from Lilly Magilly Cup Cakery.
Of course, no visit to rio is complete without a ride on the carousel!
Looking for inspiration on ways to explore Montgomery County? Check out nearby lodging accommodations via MoCo Stay. Find the perfect trail with the MoCo Trail Guide, check out 15 Ways to Eat and Drink Around Montgomery County or enjoy a craft beverage along the Tastemakers Trail.