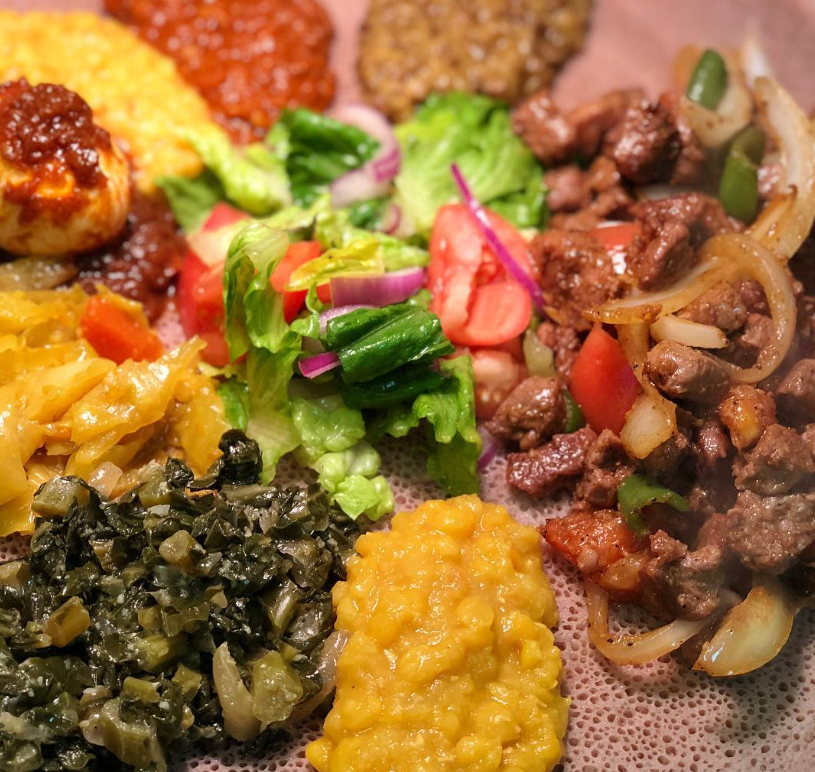 February is Black History Month, a great time to support the many Black-owned restaurants and eateries in Montgomery County, Maryland. With cuisines ranging from smoky American barbeque to authentic Ethiopian to tropical Caribbean, these restaurants represent some of the great culinary diversity and global flavors that make Montgomery County's food scene so unique. Here are Black-owned food businesses we recommend patronizing in February—and all year long.
African Cuisine
African Palace
117 N Frederick Avenue, Gaithersburg

Recently reopened, African Palace offers traditional African dishes, music, and dancing. Make sure to try their efo riro, a West African classic.
Beteseb Restaurant
8201 Georgia Avenue, Silver Spring
Beteseb is a family-owned restaurant that serves authentic Ethiopian food. In addition to their meat-based menu options, they also offer a selection of vegetarian and vegan entrees.  Make sure to try their tibs or kitfo.
Black Lion Café
9705 Traville Gateway Drive, Rockville
8240 Fenton Street, Unit A&B, Silver Spring
Black Lion Café serves 100% fair trade Ethiopian coffee, as well as tea and pastries. Make sure to try a piping hot cup of their signature blend.
Èkó House
150 Gibbs Street, Rockville
Èkó House is a modern Pan-African restaurant celebrating the rich Nigerian culture through cuisine and a carefully curated interior. Make sure to try one of their signature suyas.
Mansa Kunda
8000 Flower Avenue, Takoma Park
Mansa Kunda honors the diversity and food of West Africa. About 90% of their menu can be made vegetarian upon request. Make sure to try their Afra, a popular street food in Senegal and Gambia.
Rainbow African Restaurant
312/B1 E Diamond Avenue, Gaithersburg
Rainbow African Restaurant's unique blend of spices and sauces, combined with the authentic ingredients they secure, bring out the flavors of Ghana and West Africa. Make sure to try one of their banku dishes, a staple of Ghanaian cuisine.
Roger Miller Restaurant
939 Bonifant Street, Silver Spring
Get your fill of West African food at Roger Miller's. The current owner is an immigrant from Togo, and his first employment in the US was at the restaurant back in the late 1980s. Make sure to order the egusi stew, a favorite of many customers.
Sheba Ethiopian Restaurant
5071 Nicholson Lane, Rockville
Sheba Ethiopian Restaurant's menu encompasses the wide diversity found in Ethiopia, which is home to more than 80 different ethnic groups, many of which have their own languages. Popular dishes, like their tofu dulet, are marked with a star on the menu so first timers know what to try.
American Cuisine

All Set Restaurant & Bar
8630 Fenton Street, Plaza 5, Silver Spring
All Set Restaurant & Bar puts a contemporary Southern-style BBQ twist on traditional New England coastal cuisine. Even though they are known for their delicious seafood dishes, don't skip the blackened ribeye steak.
Butter Me Up
7101 Democracy Boulevard, Bethesda (in Montgomery Mall)
Wake up with a gourmet breakfast sandwich, toast, or superfoods bowl from Butter Me Up in Montgomery Mall. Don't sleep on their side of sweet potato tots with toasted marshmallow cream.
Hardy's BBQ
7155 Wisconsin Avenue, Bethesda
Hardy's BBQ is a food truck Food truck with a home at the Montgomery Farm Women's Cooperative Market, which is open year-round. They are out to redefine barbeque by perfecting the art of smoked meats. Make sure to try their pulled pork.
Caribbean Cuisine
Island Pride
823 Hungerford Drive, Rockville
Island Pride cooks authentic Jamaican food the way it is supposed to be made, and that is what makes their menu special. Make sure to try their coconut rundown fish soup and carrot juice.
Negril The Jamaican Eatery
965 Thayer Avenue, Silver Spring
Negril is a fast casual, authentic Jamaican eatery that serves up a taste of the island. Every bite contains bold foods and flavors. Make sure to try their beef, chicken, shrimp, or vegetable patties.
Looking for more ways to celebrate Black History Month in Montgomery County? Attend these special events and experiences all February long, or take a road trip to explore the county's Black heritage and history sites.