Are you looking for fun things to do indoors in the Washington D.C. area? Here is our guide to the best indoor playgrounds & amusement centers for kids. Enjoy great indoor fun with friends and family at these locations in Montgomery County, Maryland!
SHADOWLAND
Shadowland in Gaithersburg is a top destination for families in Maryland and Virginia. ShadowLand's unique laser adventures provide fantastic 'whole group' activities for area families, youth groups, sports teams and businesses. Strap on a light-weight, high-tech suit and enter the huge multi-level arena for a sensorial effect unlike any other.
Dave & Busters
Check out the new Dave & Busters in Downtown Silver Spring located inside Ellsworth Place. Video game and arcade lovers will enjoy more than 165 games including Ghostbusters, Star Trek and Star Wars Battle Pod. Grab a drink at the bar and sip on craft beers or one of a kind cocktails like "adult snow cones."
MONSTER MINI GOLF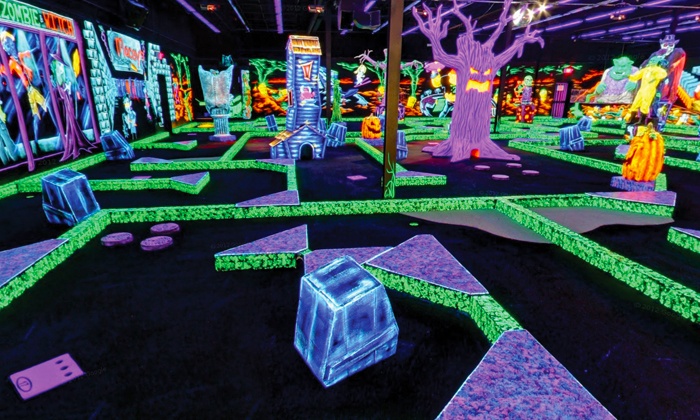 Monster Mini Golf in Gaithersburg is an indoor mini golf venue with 18 holes of Monster themed, Glow-in-the-Dark fun. Bring the family or come out on a date for cool special effects, great music, state of the art arcade and climate controlled indoor fun!
INDOOR ICE SKATING
Have some fun on the ice. Avoid freezing temperatures and snow storms at Cabin John Ice Rink in Rockville or the Wheaton Ice Rink.
BOWLING
Shouldn't you bowlmor? Bowlmor Lanes is more than a bowling alley. The lanes in Bethesda has been the Washington DC area's premier upscale bowling alley. Located on Westbard Ave, just off River Rd, Bowlmor is the perfect destination for an evening out with friends, a day with the family, or a special event. The stunning venue features 34 lanes of glow-in-the-dark bowling, a full service restaurant, two luxury sports bars, and a modern arcade. The lanes located on Shady Grove Road are conveniently right off of 270 highway! With dramatic architecture, stunning design, and award-winning service, Bowlmor is the area's top entertainment destination. With 40 glow-in-the-dark lanes, billiard tables, and an innovative selection of food and drink, Bowlmor is so much more than bowling. This unique venue lives up to its reputation in Montgomery County as "First Class Bowling!"
EARTH TREKS
Earth Treks in Rockville, is a state-of-the-art facility for indoor rock climbing. The Rockville gym is the largest indoor climbing wall in the country and offers the best designed climbing terrain for all ability levels and activities for kids and adults!
SKYZONE
SkyZone in Gaithersburg gives you one of the greatest workouts ever combined with awesome, healthy fun. They've been voted the number one "out of the box" workout and the "best party ever." Experience WOW – the weightlessness of bouncing, flipping and landing in a pit filled with 10,000 foam cubes.
BOUNCEU
BounceU in Clarksburg and Rockville provides you with the biggest, bounciest, jumpiest inflatables ever! Although they can host private parties, you don't need a birthday to bounce over to BounceU! Check their calendar for the All Age Open Bounce. Reserve your spot and enjoy awesome inflatables, fantastic games and wall to wall fun.