The holidays are a great time for bonding with friends and family. But between opening gifts and eating delicious meals together, there are sometimes lulls in activities when you're looking for more to do than watch the 24-hour marathon of A Christmas Story.
Keep you and your loved ones entertained this holiday season with these fun local activities.
1. Medieval Times Shows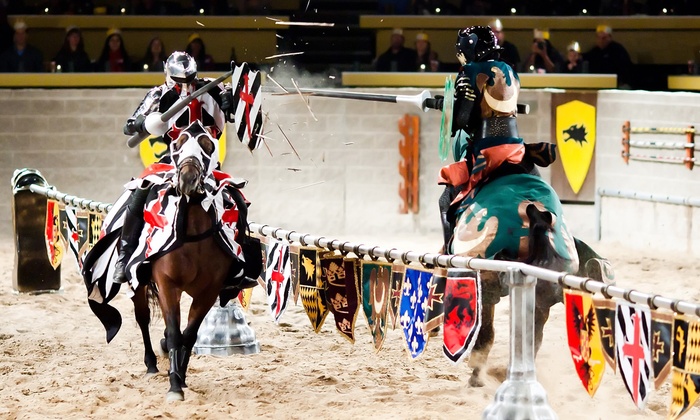 Where: Medieval Times, 7000 Arundel Mills Cir, Hanover, MD
When: December 25 – January 1, 2018
What: Travel through the mists of time to a forgotten age and a tale of devotion, courage, and love at Medieval Times Dinner & Tournament. The electrifying dinner and show features heroic knights on spirited horses displaying the astounding athletic feats and thrilling swordplay. Enjoy a feast fit for a king as the dynamic performance unfolds before you. Use discount code "35FALL17" for a 40% discount. Learn More
2. PentaPlay
Where: Shadowland, 624 Quince Orchard Rd, Gaithersburg, MD
When: December 27
Time: 6 – 9:45 p.m.
What: Nothing says the holidays like laser tag, right? Strap on a suit, enter the huge multi-level carpeted arena and prepare for the adventure of a lifetime! Eerie fog, specialty lights, darting laser beams, astral music, adrenaline, group fun! There will be special pricing during this event – five adventures for just $25. There are limited slots – payment is required to reserve your spot. Learn More
3. The Book of Will
Where: Round House Theatre, 4545 East-West Highway, Bethesda, MD
When: Now until December 30
What: What if Shakespeare's works had been lost forever? After the death of their friend and mentor, two actors are determined to compile the First Folio and preserve the words that shaped their lives. They'll just have to borrow, beg and band together to get it done. Lauren Gunderson, playwright of last season's runaway hit Miss Bennet: Christmas at Pemberley, weaves a hilarious and heartfelt story inspired by the true story of Shakespeare's First Folio. Download PDF Flyer
4. Holly TrolleyFest
Where: National Capital Trolley Museum, 1313 Bonifant Road, Colesville, MD
When: December 30
Time: 12 – 5 p.m.
What: Experience what trolley travel was like in the museum's primary exhibit and its demonstration railway. You can also enjoy the special exhibit, Winter in Washington, see Santa's Garden in the Museum's auditorium, tour Street Car Hall with a docent, learn about the role of street cars in developing communities, and see the antics of Harold Lloyd in silent film comedies featuring street cars. Download PDF Flyer

5. Winter Farmers & Artists Market
Where: Kentlands Main Street Market, 301 Main St, Gaithersburg, MD
When: December 30
What: It's your last chance to check out the Winter Farmers & Artists Market. New and veteran vendors will bring a unique and festive shopping experience to the Kentlands' Main Street Market with small-batch liquors, chocolates and brittle as well as handcrafted jewelry, knits, home goods and other one-of-a-kind gift items! There will also be fun children's activities, ornament and bookmark decorating, while the adults can enjoy tastings with two local distilleries! Learn More
Staying from Out of Town?
Take a look at these local seasonal promotions and find the perfect stay for you.