Are You Ready To See the Spectacular Solar Eclipse?
The once-in-a-lifetime event will take place on Monday, August 21, 2017. Maryland will have partial coverage, with about 80 percent of the sun covered during the event. The eclipse will move diagonally across the USA from Oregon through Manhattan, Kansas to Charleston, South Carolina. On the East Coast, the eclipse will start shortly after 1 p.m. and reach totality just before 3 p.m.
These places are holding special events to view THE ECLIPSE
Where: Martin Luther King, Jr. Recreational Park
1120 Jackson Road Silver Spring, MD 20904
Don't be left in the dark. Join Montgomery Parks on August 21st for the Total Eclipse in the Park –  free "watch" party. They've got your eyes covered with free solar eclipse sunglasses (while supplies last). Pack a picnic as well as blankets or chairs, and enjoy the afternoon in the park. There'll be a dance party, games, giveaways and FUN!
You can also catch another eclipse party the Black Hill Visitors Center in Boyds.
Where: Adventure Park at Sandy Spring
16701 Norwood Road, Sandy Spring, MD 20860
Watch the eclipse happen in the trees! The Adventure Park in Sandy Spring will offer a climb on Monday, August 21st. Receive a free pair of eclipse glasses to wear as you climb. The eclipse is scheduled to happen around 2pm, so don't miss out on this historic day!
Where: Observatory Park
100 DeSellum Avenue Gaithersburg, MD 20877
The Gaithersburg Community Museum and the Rockville Science Center is hosting a free Solar Eclipse event at Observatory Park. Enjoy solar viewing, solar activities, things to make and take, plus free solar viewers while supplies last. There will be a live feed of the total eclipse. There will be many hands-on activities, experiments, and make and take projects. Since this is such an extraordinary Teachable Moment, we try to hold this event even in less than optimal viewing conditions.
Where: Takoma Park Planetarium Dome
7600 Takoma Avenue Takoma Park, MD 20912
Montgomery College is will be holding a live broadcast at the Takoma Park planetarium dome. The event will begin at about 12:30 p.m., with a presentation about how and why eclipses take place. If the sky outside is clear, the planetarium director will let people watch the partial eclipse through several telescopes fitted with solar filters. Free viewing glasses will be on hand.
FOR SCENIC VIEWS

Take a hike up Sugarloaf Mountain and view the celestial event from the summit! Or stay in the city and head to Tommy Joe's rooftop in Bethesda for eclipse views in the city!
ENJOY SOLAR ECLIPSE MILKSHAKES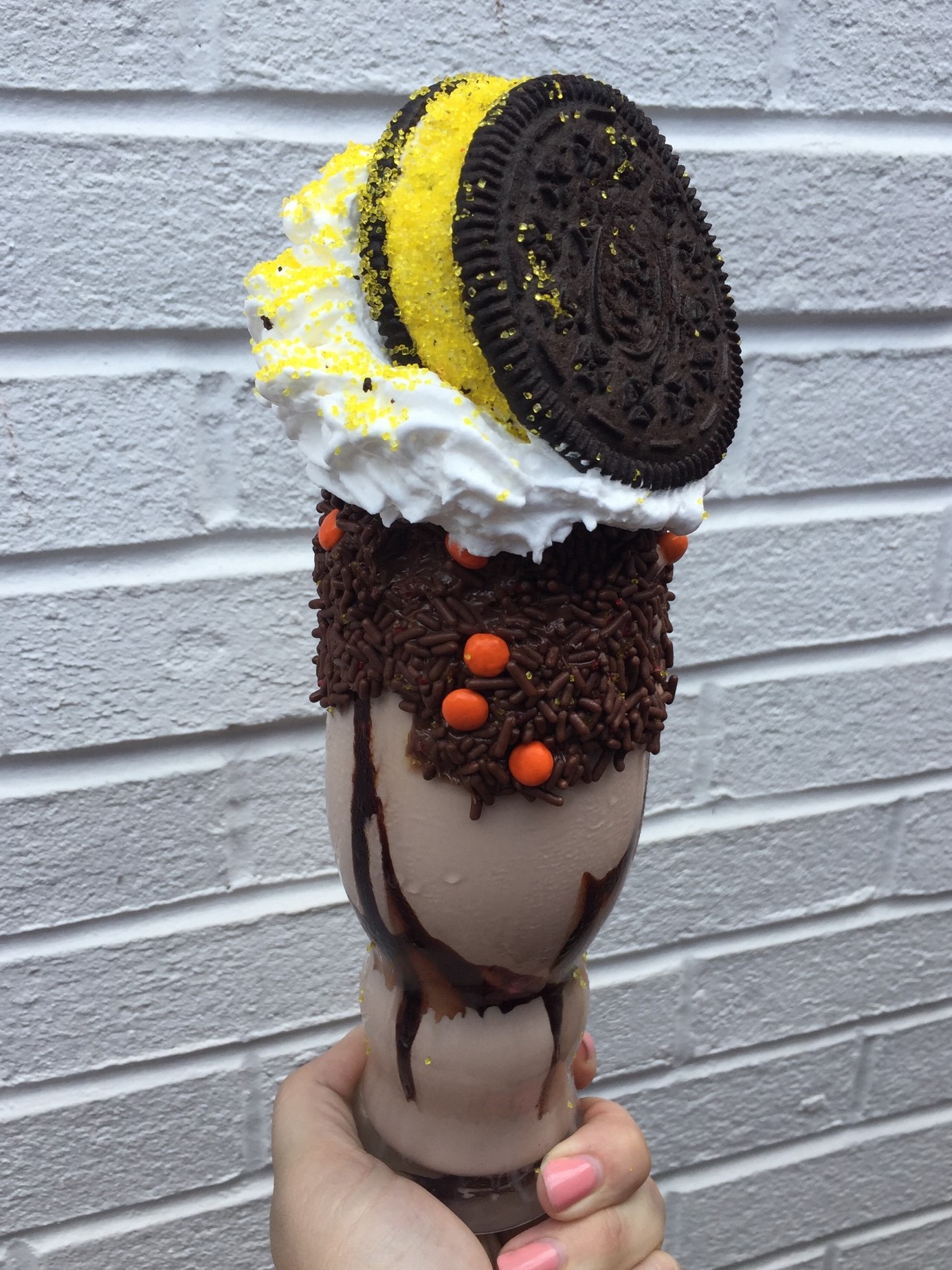 Lincoln Bar-B-Que in Downtown Silver Spring is offering a cool treat for you in honor of the blackout. According to a news release, the chocolate shake is rimmed with sprinkles and orange M&M's (to symbolize the stars that'll come out when the sun goes black). They will be topped with whipped cream and finished off with a circular ice-cream sandwich rolled in yellow sugar sprinkles (to symbolize the sun's corona). Cost: $10.
viewing tips
Keep in mind that the only safe way to look directly at the eclipsed sun is through special-purpose solar filters, also known as "eclipse glasses." It is not recommended that you DIY these glasses. Ordinary sunglasses also do not provide adequate protection.
Looking directly at the sun's harmful rays can cause severe eye damage.
Where to find Eclipse Glasses
Good luck! Most places have sold out but here are a few places that may still have them in stock:
7-Eleven
Local hardware stores (Example: Lowe's, Ace Hardware)
Libraries that are part of the STAR-Net Program
Wal-Mart
Amazon