Find these murals located throughout Montgomery County, Maryland! Share your photos with us using #MontgomeryMD
Silver Spring Murals
Celebration of Life
This mural pays homage to Silver Spring's rich and multicultural community bonded by human kind's universal heritage of food plants from all over the world.
Approximate Location: 8454 Fenton Street, Silver Spring, MD 20910; next to the CVS in Downtown Silver Spring
The Global Refugee
This mural tells the inspirational and personal stories of local refugees from Iraq, Congo, and Myanmar (Burma). It was designed to celebrate their cultures, and educates the public about important human rights issues.
Approximate Location: 963 Bonifant St, Silver Spring, MD 20910; next to Kefa Cafe
A Brushstroke of Discovery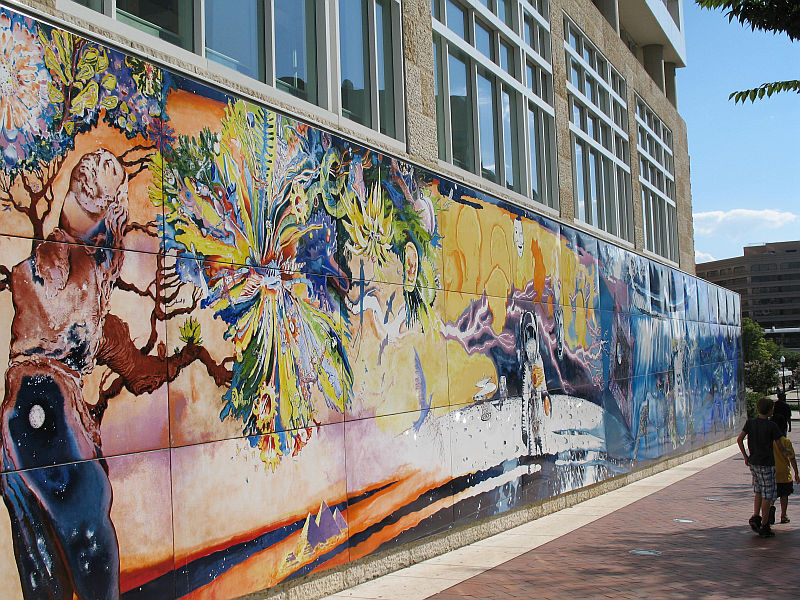 Artist Narcissus Quagliata was given the commission to execute the 170 foot exterior mural for the Discovery Communications Headquarters Building.  A vibrant silkscreen on enamel overlaying steel, the mural is a highly figurative, monumental work that invites the viewer to reflect the variety of its forms, the history of our very planet, and on the uniqueness of life itself.
Approximate Location: Discovery Communications, Downtown Silver Spring
Rockville Murals
Downtown Rockville

The mural in Downtown Rockville is approximately 35′ tall and 75′ wide. Painted by hand by Marshall Adams. Rockville has a unique history, and is currently experiencing a burgeoning downtown revival.
Approximate Location: 275 N Washington St. Rockville, MD 20850 (behind the shopping strip)
Flower Mural
Locally, there is an aggressive new commercial campaign to promote street artists and muralists. The JBG Mural Project aims to transform urban canvases – parking ramps, vacant lots, loading docks and blank facades – into public art. Four stories of painted flowers are featured on the side of a Rockville office building.
Approximate Location: 416 Hungerford Drive, Rockville, MD 20850
Bloom Where You're Planted
Created by Aaron Scales of BroCoLoco, this mural is meant to reference the transient nature of the population in the local community.
Approximate Location: 1801 Chapman Ave, Rockville, MD 20852
Bethesda
New York Mural
This mural depicts New York City's skyline! Complete with the Statue of Liberty and King Kong hanging from the Chrysler Building.
Approximate Location: 4848 Cordell Ave. Bethesda, MD
Bethesda Train Mural
Not surprisingly called the "Bethesda Train", the mural, depicts a traditional looking American steam train. The 34′ x 74′ mural is very close to the Capital Crescent Trail, once a branch of the Baltimore and Ohio Railroad.  This mural was produced on Bethesda Road in collaboration with Jerry, Pat, Bryan and Cory Deere of Deere Signs.
Approximate Location: 4810 Bethesda Ave, Bethesda, MD 20814
---
Let us know of any murals we missed in the comments below!