In celebration of the 100th birthday of the National Park Service in 2016, the National Parks Service is launching a movement to spread the word about the amazing places and the inspirational stories that the national parks tell about our country's natural resources, and our diverse cultural heritage.
Everyone finds their park in a different place and in a different way. The National Park Service invites you to find your park and share your stories using #FINDYOURPARK.
Here are 16 parks you can discover and #FINDYOURPARK in 2016 throughout Montgomery County, Maryland.
1. Glen Echo Park
Glen Echo Park began in 1891 as a National Chautauqua Assembly "to promote liberal and practical education." By 1911, it transformed into DC's premier amusement park until it closed in 1968. Since 1971, the National Park Service has owned and operated the site and today, with the help of the Glen Echo Park Partnership for Arts and Culture, offers year-round cultural and recreational activities.
2. Chesapeake and Ohio Canal, National Historic Park
Follow the towpath along the canal for great biking or jogging trails. Preserving America's early transportation history, the C&O Canal began as a dream of passage to Western wealth. Operating for nearly 100 years the canal was a lifeline for communities along the Potomac River as coal, lumber and agricultural products floated down the waterway to market. Location: 11710 MacArthur Blvd. Potomac, MD 20854
3. Clara Barton, National Historic Site
Clara Barton dedicated her life and energies to help others in times of need – both home and abroad, in peacetime as well as during military emergencies. She is the founder of the American Red Cross. Glen Echo was her home the last 15 years of her life and the structure illustrates her dedication and concern for those less fortunate than herself. The Clara Barton house is currently undergoing renovations. For more information visit: http://www.nps.gov/clba/planyourvisit/hours.htm
Location: 5801 Oxford Rd, Glen Echo, MD 20812
4. Great Falls
Great Falls Park, an 800-acre park located along the Potomac River, is one of the most spectacular natural landmarks in the Washington DC metropolitan area. Great Falls Park offers a variety of activities including hiking, picnicking, kayaking, rock climbing, bicycling, and horseback riding. You can view the falls from several observation areas. The falls cascade into 20 foot waterfalls displaying the steepest fall line rapids of any eastern river. Location: 11710 MacArthur Blvd. Potomac MD 20854
5. Agricultural History Farm Park
See the past, the present, and the future of Montgomery County farming at the Agricultural History Farm Park (AHFP)! Situated along Rock Creek in Derwood, Maryland, the Agricultural History Farm Park is a 455-acre complex with a historic farm site and a modern farming activity center. The Park offers visitors a unique perspective on the County's rich farming heritage.  Location: 18400 Muncaster Rd. Derwood, MD 20855
6. Black Hill Regional Park
With more than 2,000 acres, Black Hill Regional Park offers such a wide variety of outdoor activities that it's impossible to experience it all in a single visit. You'll enjoy picnic shelters near playgrounds, volleyball courts, paved and natural surface trails, and spectacular views of Little Seneca Lake. The lake can be enjoyed from your private boat, rental boats, or by the pontoon tour boat, and the fishing pier. For those who love the solitude of the forest, miles of trails can be explored by foot, horseback or mountain bike. Location: 20930 Lake Ridge Drive, Boyds, Maryland 20841
7. Cabin John Regional Park
Cabin John Regional Park is one of Montgomery County's biggest and best combinations of nature, sports and recreation. The park encompasses athletic fields, including the beautiful Shirley Povich Field; a full-service ice-skating rink; indoor and outdoor tennis courts; and many picnic areas, trails and camp sites. Cabin John Regional Park maintains over 5 miles of recreational hiking/biking trails with trails are maintained throughout the Park with several access points throughout the park and nature trails around Locust Grove Nature Center. Location: 7400 Tuckerman Lane Bethesda, MD 20817
8. Little Bennett Regional Park
Little Bennett Regional Park is the largest natural gem of Montgomery County. Throughout its 3,700 acres, you will find over 20 miles of trails leading you to and through quality forests, meadows, and streams. This vast park is home to many historic sites, as well as an abundance of native plants and animals. Additionally, you will find Montgomery County's only campground, and the Little Bennett Golf Course. Location: 23701 Frederick Road Clarksburg, MD 20871
9. Rock Creek Regional Park
Rock Creek Regional Park covers approximately 1800 acres and includes the beautiful 75-acre Lake Needwood and the picturesque 55-acre Lake Frank. Visitors can enjoy the park by meandering along 13 miles of trails through woodlands and along the lakeshores, picnicking, fishing, boating and viewing many species of resident wildlife. Location: 6700 Needwood Road Rockville, MD 20855
10. Seneca Creek State Park
The park, comprised of 6,300 acres, extends along 14 scenic miles of Seneca Creek, as it winds its way to the Potomac River. This area contains many scenic areas, including the 90-acre Clopper Lake, surrounded by forests and fields. Picnicking, boat rentals, trails and a tire playground are just some of its recreational opportunities. A restored 19th century cabin and a self-guided path interpret the history of the area. Nearby, the Schaeffer Farm Trail Area offers 12 miles of marked trails for hiking and mountain biking. Location: 11950 Clopper Road Gaithersburg, MD 20878
11. McKee-Beshers Wildlife Management Area
McKee-Beshers Wildlife Management Area is a Wildlife Management Area in Montgomery County, Maryland. It is a large contiguous forest of varied habitat, situated between the Potomac River and the Chesapeake & Ohio Canal to the south, and Seneca Creek State Park to the east. Acres of sunflowers are planted each year at McKee-Beshers WMA to attract game birds. Every July, these spectacular fields in full bloom also draw photographers, garden enthusiasts, and tourists.
Wheaton Regional Park
Visitors can enjoy a variety of recreational and educational opportunities within its 536 acres. Take a ride on the train, go horseback riding, have a picnic, go fishing, ice skate or play ball. Relax and tour Brookside Gardens' grounds and conservatory, attend a nature program, or traverse the trails and discover the park's beauty. Brookside Gardens is a 50-acre, award-winning horticultural display garden that includes an indoor conservatory complemented by changing displays of new and interesting plants and gardens. Location: 1400 Glenallan Avenue, Wheaton, MD 20902
Sugarloaf Mountain
Sugarloaf Mountain has many wonderful hiking trails that can be combined to create many different loops. Open to the public for hiking, rock climbing, and sightseeing, a popular trail is the Blue Northern Peak Trail loop. The Blue Trail Loop is a 5.5 mile loop trail located near Dickerson, Maryland that offers scenic views and is rated as difficult. The trail is primarily used for hiking, rock climbing & walking and is accessible year-round. Location: 7901 Comus Road, Dickerson, MD 20842
Butler's Orchard
Butler's Orchard is a 300 acre family owned farm in Germantown, Maryland that grows more than 25 kinds of fruits, vegetables and flowers. Items are for sale at the farm market and you can also pick your own fruits and vegetables as they are in season. Visit their website for more information on seasonal events. Location: 22200 Davis Mill Road Germantown, MD 20876
Go Ape!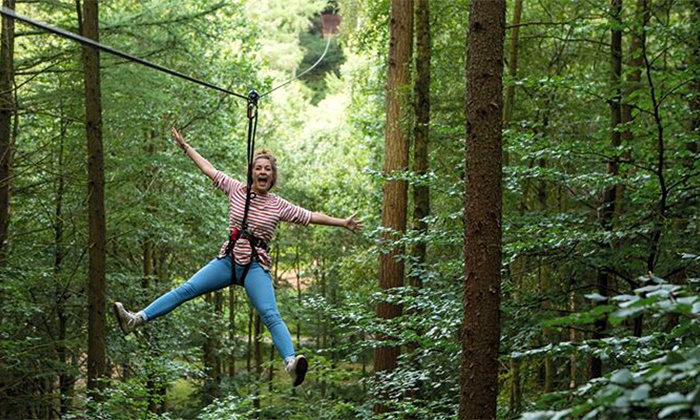 Go Ape in Rock Creek Regional Park in Rockville is home to 6 zip lines, numerous rope ladders, 44 crossings to include the Stirrups and Twister, 2 tarzan swings and America's first skateboard zip line. More than just a canopy tour, there are 6 individual sections within the course, each section taking you higher into the forest canopy and finishing with a zip line more exciting than the previous one!  Location: 6129 Needwood Lake Dr, Rockville, MD 20855
The Adventure Park
The Adventure Park in Sandy Spring consists of 13 different courses varying in degree of difficulty. Each trail has zip lines but primarily consist of "bridges" between tree platforms made of rope, cable and wood configurations creating over 190 unique challenges. You will develop skills, endurance, and confidence during your time in the Park. Location: 16701 Norwood Rd, Sandy Spring, MD 20860