During National Hispanic Heritage Month (September 15 to October 15) we recognize the contributions made and the important presence of Hispanic and Latino Americans to the United States and celebrate their heritage and culture.
Hispanic Heritage Month, whose roots go back to 1968, begins each year on September 15, the anniversary of independence of five Latin American countries: Costa Rica, El Salvador, Guatemala, Honduras and Nicaragua. Mexico, Chile and Belize also celebrate their independence days during this period and Columbus Day (Día de la Raza) is October 12.
Celebrate Hispanic Heritage Month by eating the traditional foods of the following Latin American countries! Seriously, get ready to be hungry …
El Salvador:
Pupusas are a traditional Salvadoran dish made of a thick handmade corn tortilla filled with a variety of options like a blend of cheese with or without pork and with beans or no beans. Pupusas are typically served with curtido (lightly fermented cabbage slaw with red chilies and vinegar) and salsa. Try these popular pupusas at many restaurants in Wheaton and Silver Spring. Try them at local favorite, La Casita Pupuseria at 8214 Piney Branch Rd. Silver Spring, MD.
Guatemala:
Chuchitos are traditional Guatemalan-style tamales, and many families prepare this dish for their holiday celebrations. Fun fact: chuchitos–the word means "little dog" in English!
Honduras:
A baleada or "valiada" is a traditional Honduran dish composed of a flour tortilla, often quite thick, folded in half and filled with mashed fried beans. For more excellent Honduran food visit El Catrachito at 2408 University Blvd. Silver Spring, MD.
Costa Rica and Nicaragua:
Gallo Pinto is a traditional dish of Costa Rica and Nicaragua made with beans and rice!
Mexico:
Tacos! Of course are the traditional Mexican dish. Made with tortilla and filled with a variety of fillings, most typical include: beef, pork, chicken, seafood, vegetables and/or cheese, allowing for great versatility and variety. Garnishes are usually: salsa, chili pepper, avocado, guac, cilantro, tomatoes, onions or lettuce. Locals favor a little Taco Bar inside a gas station/convenience store in Gaithersburg. But honestly, it's delicious: Taco Bar, 10003 Fields Rd. Gaithersburg, MD
Bolivia:
Salteñas are a tasty treat from Bolivia. A salteña is a type of empanada pastry filled with beef, pork or chicken mixed in a sweet, slightly spicy or very spicy sauce, and sometimes also containing peas, eggs, olives, raisins, potatoes and other ingredients.
Columbia and Venezuela:
Arepas are corn patties typically formed into a round cake and cooked on a griddle. Traditional Venezuelan fillings including shredded beef, cheese and chicken salad. Visit Al Carbon in Rockville to savor these tasty treats for yourself. 200 Park Rd. Rockville, MD
Peru: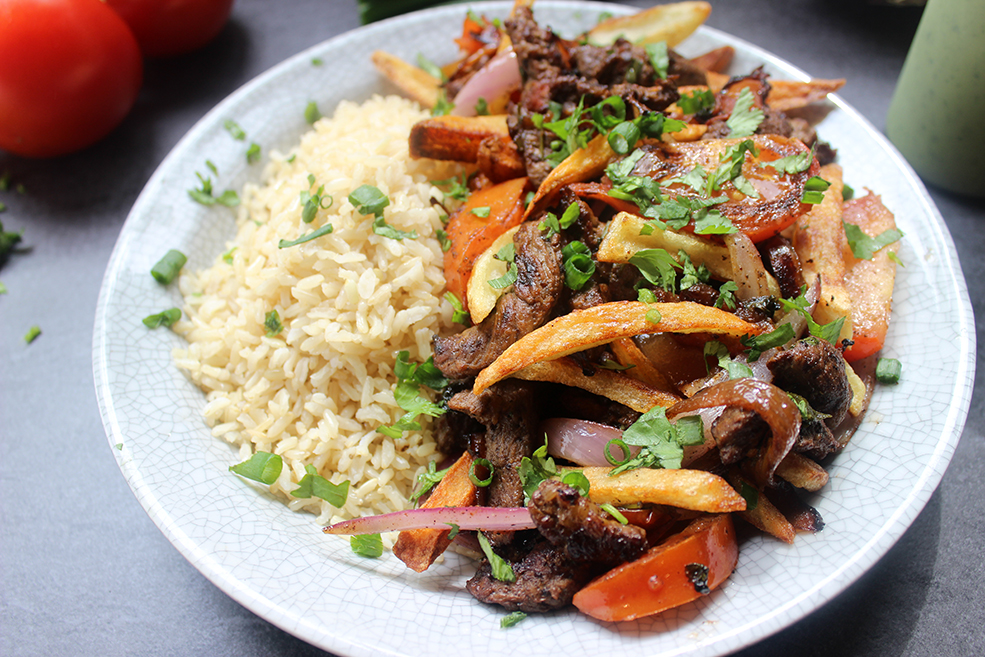 Lomo saltado is a popular, traditional Peruvian dish, a stir fry that typically combines marinated strips of sirloin with onions, tomatoes, french fries, and other ingredients; and is typically served with rice. Don't leave your mouth watering! Try it at La Limena 765 Rockville Pike, Rockville, MD. Plus try the very popular Pollo Rico for some tasty Peruvian Chicken. 2517 University Blvd. Wheaton, MD
---
Let us know your favorite dishes and places to eat around Montgomery County, MD in the comments below!