The newly inaugurated Smithsonian's National Museum of African American History and Culture in Washington, D.C. recognizes the African American story as a central part of American history. Montgomery County, Maryland, adjoining the nation's capital, is home to several African American historical sites that signify the understanding of black history and culture.
All the sites below are part of Montgomery County Heritage Area's Crossroads and Cultures-themed cluster. Heritage Montgomery is one of Maryland Heritage Areas Authority's thirteen certified heritage area created to promote historic preservation and areas of natural beauty in order to stimulate economic development through tourism. The Crossroads and Cultures theme represents the diverse cultural histories of African American and Quaker heritage.
Woodlawn Manor Cultural Park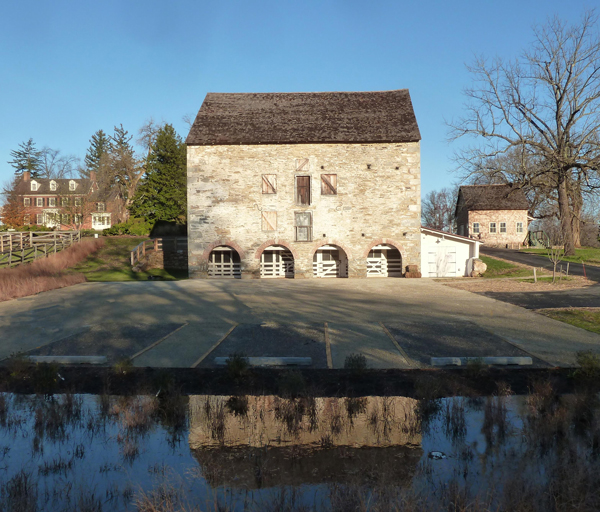 Experience Maryland as it looked in the early 1800's by visiting Woodlawn Manor Cultural Park. Its historic buildings transport you back in time to the founding of the Sandy Spring Quaker settlement and a historically free black community. Recently restored, the stone barn contains exhibits and a unique audiovisual program projected on the interior stone walls that share the story of a bustling farm, its community, and those who made a bold bid for freedom on the Underground Railroad.
In addition to the stone barn, a Federal-era manor house, and six historic original outbuildings, visitors can walk the Underground Railroad Experience Trail and imagine what it was like to be a freedom seeker. The trail is open year-round for self-guided hikes. Guided hikes are available from April through November when conductors showcase stories with strategies used and the hardships faced on the road to freedom.
Sandy Spring Slave Museum & African Art Gallery
The Sandy Spring's Slave Museum focuses on the heritage of Blacks from their origin in Africa through the Trans-Atlantic passage, participation with the Underground Railroad, the struggle for civil rights, and their accomplishments across the African Diaspora. Exhibits include the cross-section of a slaving clipper ship, a log cabin that was relocated to the grounds and an arts pavilion that represents huts built by indigenous tribes in Africa. The pavilion houses textiles, instruments and furniture.
On Saturday, November 5, 2016, a self-guided viewing will be open to the public in honor of Emancipation Day from 11:00am to 3:00pm. This event will have free admission. The museum is also open during Heritage Days in June. Otherwise, the museum is open by appointment only. Visit their website to make an appointment.
Boyds Negro School
Owned and operated by Boyds Historical Society, this one-room wooden building served as the only public school for African Americans in the Boyds area from 1895 – 1936. The school is open on the last Sunday of every month from 2:00pm – 4:00pm. Private tours can also be arranged by emailing info@boydshistory.org. For more information, visit Heritage Montgomery.
Josiah Henson Park
Discover the remarkable story of Reverend Josiah Henson, whose 1849 autobiography inspired Harriet Beecher Stowe's abolitionist novel, Uncle Tom's Cabin. This internationally significant historic site is the place where Henson lived and worked as a slave from 1795 to 1830 and became the backdrop for his memoir. It is here that the story of slavery in Maryland can be told from Henson's first-person experience. The park is open for special events such as Black History Month (February), Heritage Days (June), and Maryland Emancipation Day (November).
You can enjoy free guided tours retracing Josiah Henson's footsteps from slavery to freedom, while walking the grounds of the Issac Riley plantation at the Josiah Henson Park. After taking a walk through history watch the PBS documentary of Josiah Henson's life from an archaeological perspective. The cabin is open by appointment only.
Oakley Cabin African American Museum and Park
The struggle for emancipation did not end at the Civil War but continued on through the period known as Reconstruction. Oakley Cabin was once the center of an African American roadside community struggling to survive and build a new life. Now serving as a living museum for this era, the log cabin provides hands-on historical experiences through hearth cooking, crafts, and other educational opportunities. Free guided tours of the Oakley Cabin African American Museum are available select Saturdays, April through October. Learn more here.
Rockville's Walking Tour of African American Heritage
Take a walk around Rockville Town Square and learn about how African Americans have continued to help the growth and success of the Rockville community. The walking tour documents significant locations that have played a crucial role in the area between the 18th and 20th century. Touching on topics such as slavery, emancipation, religions, education, commerce, and civil rights, there is something for everyone to learn. Click here to learn more about the self-guided tour.
Thomas Harper Cabin at Brookside Nature Center
Visit the ca. 1870 Thomas Harper Cabin at Brookside Nature Center in Wheaton. This log cabin came from a post-Civil War African American community of Jonesville, located north of Poolesville, in western Montgomery County. See the Harper Homestead including the smokehouse and learn how this large family and most other post-emancipation African American families lived and farmed on the land that provided them a unique culinary experience.
---
For more information and events happening on Emanciaption Day, click here.
For more information of history year round, visit HistoryInTheParks.org
For more information on heritage sites around the county, visit HeritageMontgomery.org
"This Project has been financed in part with State Funds from the Maryland Heritage Areas Authority, an instrumentality of the State of Maryland. However, the contents and opinions do not necessarily reflect the views or policies of the Maryland Heritage Areas Authority."