Montgomery County, Maryland hosts numerous of annual festivals and special events. Listed below are June 2016 Festivals and Events throughout the county. All dates, prices, and activities mentioned are subject to change.
Takoma TruckGarten
Saturday June 4, 2016: Join Main Street Takoma for food trucks, local brews and live music! Takoma Truckgarten is an exciting all day outdoor festival with a full event lineup including street food, local breweries and live music.
Imagination bethesda
Saturday June 4, 2016: Imagination Bethesda is a children's street festival celebrating children and the arts. The 22nd annual event is scheduled for Saturday, June 4, 2016 from 10am-3pm. Musical performances and professional children's entertainers will light up the stage, while hands-on art & craft activities will line the streets along Elm Street and Woodmont Avenue in downtown Bethesda.
Washington folk festival
Saturday, June 4 – 5, 2016: The 36th Annual Washington Folk Festival will be held on Saturday, June 4 and Sunday, June 5, 2016. The festival runs from Noon to 7:00pm on both Saturday and Sunday at Glen Echo Park. The 36th Annual Washington Folk Festival showcases the diversity of traditional music in the Washington area. All musicians, storytellers, dancers, and craftspeople live in the greater Washington metropolitan area and volunteer their talents to put on a first class festival of national renown. With performances representing cultures from around the world as well as around the country, it is your chance to find out what is going on in the folk communities of the area.
Taste of Wheaton
Sunday June 5, 2016: Enjoy the Taste of Wheaton! The 20th annual event will take place on Sunday, June 5, from 11:00 am to 5:00 pm in the Wheaton Triangle at the corner of Grandview Avenue and Reedie Drive in downtown Wheaton (one block north of the Wheaton Metro station).
Feria de sevilla
Sunday, June 5, 2016: The Centro Español de Washington, DC, is bringing a taste of Spain to Strathmore. Stop by for this free flamenco festival where you will feel like you're at the fairgrounds of Sevilla. Listen to live flamenco beats, watch the intricate foot and arm work of passionate flamenco dancers, and taste a variety of Spanish tapas at the Feria de Sevilla!
Woodlawn Manor Visitor Center Opening
Saturday, June 11, 2016: Join Montgomery Parks in celebrating the Grand Opening of the Woodlawn Visitor Center on Saturday June 11 from noon to 5pm.
Explore the Stone Barn exhibits where echoes of the past will tell the story of a bustling farm, its community, and those who made a bold bid for freedom on the Underground Railroad. Learn about Woodlawn's earliest residents and their neighbors.
Throughout the afternoon, enjoy living history demonstrations, tours, activities for children, food, live music and a special performance by the Washington Revels Jubilee Voices.
Click here for more information.
Celebrate gaithersburg
Sunday, June 12, 2016: The 34th annual Celebrate Gaithersburg Festival is scheduled for Sunday, June 12, 2016, from noon to 5 p.m., and will include multiple stages of live entertainment, food, and themed activity areas for all ages and interests.
taste of jamaica
June 12, 2016: Bring the family and enjoy the Taste of Jamaica in Downtown Silver Spring. This family friendly event starts and noon and will feature lots of authentic Jamaican cuisine, along with arts and craft vendors with a wide array of beautiful merchandise. Enjoy live entertainment by Carl Malcolm and the positive vibration reggae band, reggae Artist Lady Flame and many more.
silver spring blues festival
Saturday, June 18, 2016: Enjoy an all-day blues block party with 2 stages, vendors, crafts, and plenty of places to eat and enjoy beverages while sitting outside enjoying the music! Festivities begin at 10am, live performances on the Fountain Plaza Stage start at 3pm. CLICK HERE for festival details. 
Fit fathers day
Sunday, June 19, 2016: Bring the family for a "fun-for-all" fitness celebration on Father's Day and take part in a group workout with celebrity trainer Michelangelo Bance (Fitness Gratitude) and the Baltimore Ravens' Kyle Arrington. Enjoy games, healthy snacks from Whole Foods, the interactive kid's area, giveaways (REI, Bose, Road Runner Sports, Soul Cycle, Yokohama Tires, Live Nation) live music from DJ Blinks and the Fit Mom and Mr. Fit Father contests ($2,500 in Prizes).
afi docs
Wednesday, June 22-26, 2016: AFI DOCS is the nation's documentary film festival known for showcasing the best in documentary filmmaking from the U.S. and around the world. Screenings during this annual five day event take place in landmark venues in Washington, D.C. and the world-class AFI Silver Theatre in downtown Silver Spring. Documentaries in the festival are seen by influential audiences that have the ability to shape our society such as cultural leaders, senators, congresspersons and Supreme Court Justices.
Shark week screening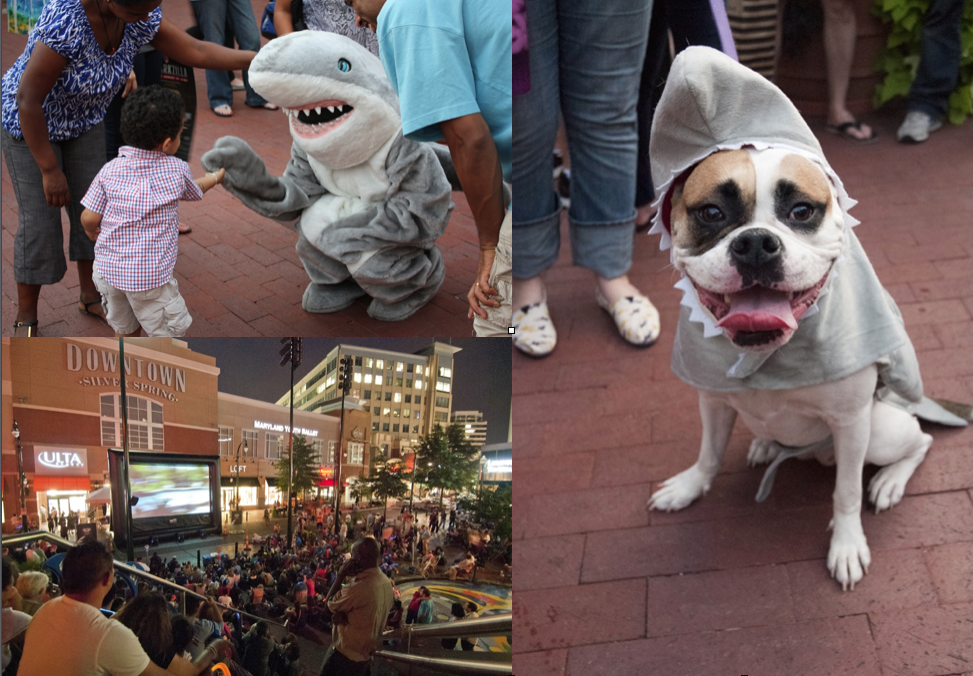 Friday, June 24, 2016: Join Discovery for a Free Shark Week Screening on the Fountain Plaza in Downtown Silver Spring on June 24 at 8pm. There will be live music before the movie, and surrounding restaurants and retailers are having shark-tastic deals specially for the screening. Come early for Shark Week swag and Downtown Live at a special time from 6-8pm.
fiesta asia
Sunday, June 26, 2016: The 7th Annual Fiesta Asia will be held on Sunday, June 26 starting at 10am. The Asia Heritage Foundation knows how to put on a good party- Asian style of course! The events showcase Asian art and culture with a wide array of activities including live performances by musicians, vocalists and performance artists, Pan-Asian cuisine, martial arts and lion dance demonstration, a multicultural marketplace, cultural displays and interactive activities.