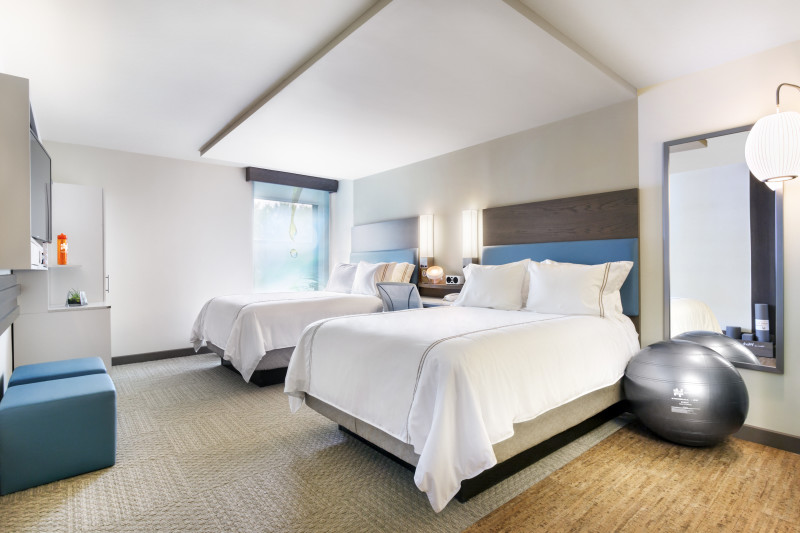 EVEN™ Hotel Rockville is convenient to the Washington, DC area.
Centrally-located on the Rockville Pike and the newest hotel in Rockville, MD, EVEN ™ Hotel Rockville is the first of its kind. For your convenience we request that each guest check in before they park in our garage. Experience easy access to nearby Bethesda, Gaithersburg, Washington, DC, and Baltimore by taking I-270 and I-495 or the Metro Red Line where you can visit DC attractions like the U.S. Capitol or the Smithsonian National Air and Space Museum.
Whether you're traveling for business or leisure you won't have to compromise your wellness routine. As a member of the newest brand from IHG® and one of the first EVEN ™ Hotels in the world, our facility is designed to help our guests maintain a healthy lifestyle while traveling.
Keep active with in-room fitness zones for private workouts and eat well when you choose from our selection of healthy food and beverage options, including made to order smoothies and Grab 'n' Go meals. Accomplish more with free Wi-Fi and mobile furnishings that give you the flexibility you need to be your most productive-self. You'll rest easy with spa-inspired showers, signature bath products and all-natural eucalyptus linens. Start and end your day with EVEN ™ Hotel Rockville, MD as we provide you with the essentials for your healthy lifestyle.
Venue Information
Accessible Rooms
Bar On Site
Business Center
CDC Recommended Cleaning Procedures
CDC Recommended Cleaning Procedures
Closest Metro Stop: Twinbrook
Complimentary Shuttle
Complimentary WiFi in rooms
Contact Barriers in Place
Fitness Center
Hand Wash/Sanitizer Stations
Hand Wash/Sanitizer Stations
Handicap Accessible Facility
Health Related Staff Training
Health Screening Required-Staff
Keyless Entry
Limited Elevator Occupancy
Limited Services
Masks Provided
Masks Required
Masks Required-Guest
Masks Required-Staff
Max Event Capacity: 50
Metro Accessible
Mobile Payments Accepted
Mobile Payments Required
No Contact Services
Non-Smoking
Online Orders Available
Open For Business
Parking Fee
Pet Friendly
Pets Allowed
Reduced Occupancy/Occupancy Limits
Restaurant On Site
Sneeze Guards/Contact Barriers
Social Distance Furniture Configurations
Social Distance Guidelines Enforced
Social Distance Markings/Signage
Social Distancing Guidelines Enforced
Valet Parking
Virtual Events
Space Information
| | |
| --- | --- |
| Area | 343 ft2 |
| | |
| --- | --- |
| Area | 340 ft2 |
| | |
| --- | --- |
| Area | 679 ft2 |
| | |
| --- | --- |
| Area | 343 ft2 |