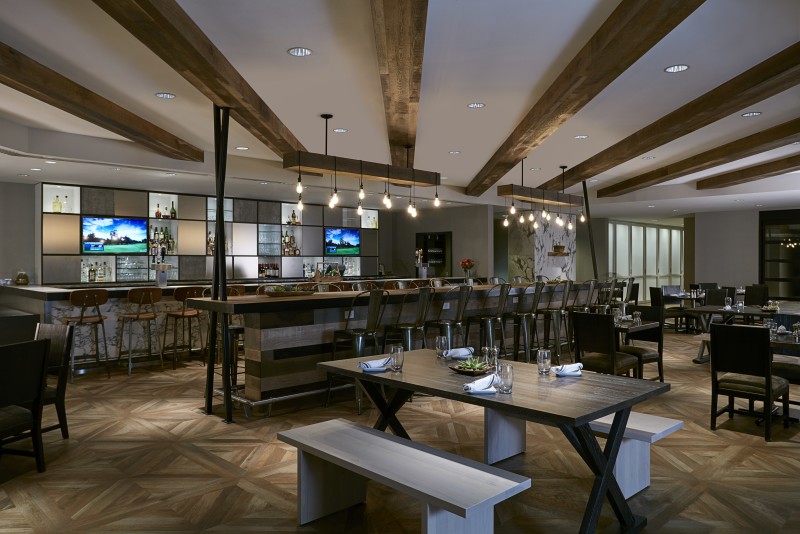 The Bethesda Marriott Hotel has undergone a major renovation and transformation!
Every well-crafted detail is designed to meet your needs.
The upgrades feature:
New check-in technology for faster and more simple check ins
New common spaces to stay connected with new polished and adaptive furniture
Updated guest rooms that feel as personal as they are relaxing to adapt from work to relaxation to play
And meeting space that inspire you to create and think.
Boasting 18,500 square feet of flexible, state-of-the-art event space, our hotel is ideal for corporate meetings, professional gatherings and elegant wedding receptions.
Located only two miles from downtown Bethesda, our hotel's fine services include complimentary shuttle service to the downtown district and other local destinations including the National Institute of Health and the Metro's Red Line which provides continuous service to downtown Washington, D.C. Guests can also access I-270 and I-495 directly from our sophisticated Bethesda, MD hotel.
Venue Information
Accessible Rooms
Avis Car Rental on Site
Bar On Site
Business Center
CDC Recommended Cleaning Procedures
CDC Recommended Cleaning Procedures
Closest Metro Stop: Bethesda
Complimentary Shuttle
Contact Barriers in Place
Convenience Store
Cost of Internet per day: $12.95
File Upload - Health & Safety Policy: https://MontgomeryCounty.simpleviewcrm.com/sched/getfilebykey.cfm?filekey=db2b1473-cc55-49bf-8f7f-9a7dd9a9a680
Fitness Center
Hand Wash/Sanitizer Stations
Hand Wash/Sanitizer Stations
Handicap Accessible Facility
Health Related Staff Training
Health Screening Required-Staff
Keyless Entry
Laundry Facilities On-Site
Make a Hotel Reservation: www.bethesdamarriott.com Marriott reservations in the US and Canada: 1-800-228-9290
Masks Provided
Masks Required
Masks Required-Guest
Masks Required-Staff
Max Event Capacity: 560
Metro Accessible
BWI Airport: 33 mi
Dulles DCA Airport: 20 mi
Dulles IAD Airport: 24 mi
Mobile Concierge
Mobile Payments Accepted
Mobile Payments Required
No Contact Services
Non-Smoking
Online Orders Available
Open For Business
Parking Fee
Parking Rate: $ 16.00
Pool Outdoor
Reduced Occupancy/Occupancy Limits
Restaurant On Site
Room Service
Sneeze Guards/Contact Barriers
Social Distance Furniture Configurations
Social Distance Guidelines Enforced
Social Distance Markings/Signage
Social Distancing Guidelines Enforced
Virtual Events
Walking Distance to Metro Stop: No
Wedding Planner Available
Space Information
| | |
| --- | --- |
| Dimensions | 29' × 34' × 10' |
| Area | 986 ft2 |
| Banquet Seating | 80 |
| Classroom Seating | 73 |
| Reception Seating | 120 |
| Theater Seating | 134 |
| | |
| --- | --- |
| Dimensions | 25' × 24' × 9' |
| Area | 600 ft2 |
| | |
| --- | --- |
| Area | 3,432 ft2 |
| Banquet Seating | 320 |
| Classroom Seating | 248 |
| Reception Seating | 400 |
| Theater Seating | 470 |
| | |
| --- | --- |
| Dimensions | 24' × 24' × 10' |
| Area | 552 ft2 |
| Banquet Seating | 40 |
| Classroom Seating | 40 |
| Reception Seating | 50 |
| Theater Seating | 50 |
| | |
| --- | --- |
| Banquet Seating | 400 |
| Classroom Seating | 336 |
| Reception Seating | 550 |
| Theater Seating | 560 |
| | |
| --- | --- |
| Dimensions | 24' × 24' × 10' |
| Area | 552 ft2 |
| Banquet Seating | 40 |
| Classroom Seating | 36 |
| Reception Seating | 45 |
| Theater Seating | 48 |
| | |
| --- | --- |
| Dimensions | 24' × 24' × 10' |
| Area | 552 ft2 |
| Banquet Seating | 40 |
| Classroom Seating | 36 |
| Reception Seating | 45 |
| Theater Seating | 48 |
| | |
| --- | --- |
| Dimensions | 24' × 93' × 11' |
| Area | 2,232 ft2 |
| Banquet Seating | 200 |
| Classroom Seating | 148 |
| Reception Seating | 250 |
| Theater Seating | 300 |
| | |
| --- | --- |
| Dimensions | 19' × 54' × 9' |
| Area | 1,026 ft2 |
| Banquet Seating | 90 |
| Classroom Seating | 84 |
| Reception Seating | 100 |
| Theater Seating | 134 |
| | |
| --- | --- |
| Dimensions | 24' × 24' × 10' |
| Area | 552 ft2 |
| Banquet Seating | 40 |
| Classroom Seating | 36 |
| Reception Seating | 45 |
| Theater Seating | 48 |
| | |
| --- | --- |
| Dimensions | 24' × 48' × 10' |
| Area | 1,104 ft2 |
| Banquet Seating | 80 |
| Classroom Seating | 66 |
| Reception Seating | 100 |
| Theater Seating | 116 |
| | |
| --- | --- |
| Dimensions | 24' × 93' × 9' |
| Area | 2,399 ft2 |
| Banquet Seating | 170 |
| Classroom Seating | 100 |
| Reception Seating | 250 |
| Theater Seating | 150 |