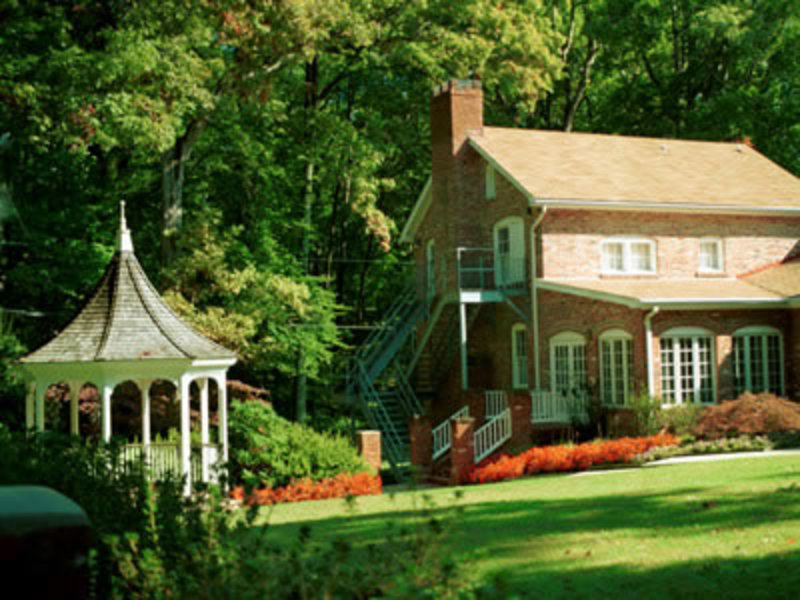 Easily accessible from downtown Washington, Bethesda and Northern Virginia, Rockwood Manor offers unique opportunities for both business and social events.
The iconic Rockwood Manor was built in the 1920s and served as the country estate of Carolyn Gangwer Caughey (pronounced "coy"). Nestled in 30 acres of forest and just steps away from the C&O Canal National Historical Park, the manor exudes rustic elegance and old-world charm. Today, it offers guests a dynamic, secluded, and naturally stunning venue in which to meet, socialize, and celebrate.
Rockwood Manor's convenient location and six meeting rooms make it an ideal setting for your next business meeting. The variety of rooms and layouts allows for gatherings of up to 80 guests in one room with space for break-out sessions for smaller groups. You may also add overnight rooms to your Business reservation to enjoy the property for multi-day meetings. We do not offer in-house catering but will be happy to supply names of several local restaurants/caterers who have fulfilled business catering needs in the past and are familiar with Rockwood Manor.
Rockwood Manor is owned by the Maryland-National Capital Park and Planning Commission (M-NCPPC). Accommodations include 10 hotel-style rooms, a three-bedroom bungalow, three rustic bunkhouse cabins and designated Manor House Access Hours.
Venue Information
Closest Metro Stop: Bethesda
Complimentary Parking
Cost of Internet per day: Free
Handicap Accessible Facility
Max Event Capacity: 120
BWI Airport: 44 mi
Dulles DCA Airport: 18 mi
Dulles IAD Airport: 22 mi
Non-Smoking
Parking Rate: $ 0.00
Space Information
| | |
| --- | --- |
| Dimensions | 25' × 40' |
| Area | 1,000 ft2 |
| Classroom Seating | 60 |
| Theater Seating | 80 |
| | |
| --- | --- |
| Dimensions | 14' × 42' |
| Area | 588 ft2 |
| Classroom Seating | 15 |
| Theater Seating | 40 |
| | |
| --- | --- |
| Dimensions | 17' × 35' |
| Area | 595 ft2 |
| Classroom Seating | 24 |
| Theater Seating | 50 |
| | |
| --- | --- |
| Dimensions | 21' × 30' |
| Area | 630 ft2 |
| Banquet Seating | 20 |
| Classroom Seating | 42 |
| Theater Seating | 60 |