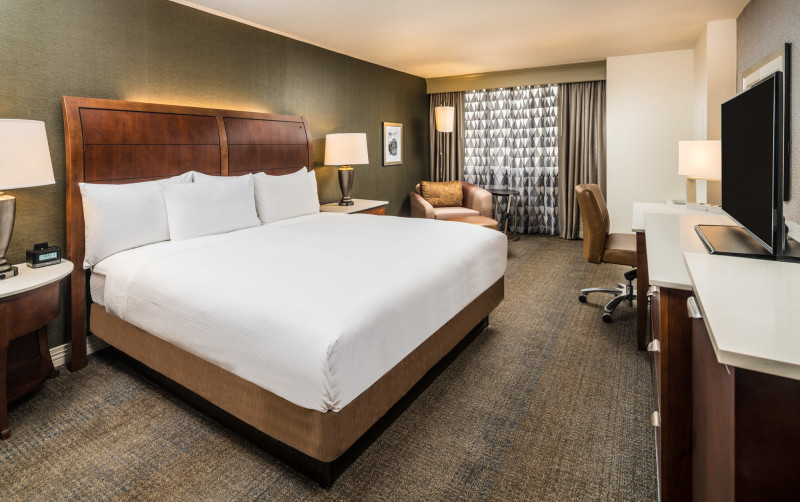 NEW LOOK, MORE SPACE…SAME GREAT LOCATION
The Hilton Washington DC/Rockville Hotel & Executive Meeting Center has been fully transformed with a new look and now over 35,000 square-feet of dedicated meeting & event space.
Only minutes from Washington DC's most important attractions and prosperous businesses, our hotel is conveniently located steps away from the Twinbrook Metro Station on the Red Line. Our walkable location and city environment will provide you with an extensive selection of shops, restaurants and an adjacent 24-hour grocery store.
With a welcoming atmosphere, our hotel offers spacious accommodations and committed service. The guestrooms and suites are well-appointed to suit every type of traveler. Our spacious rooms feature a variety of bed types with a mini refrigerator, backlit bathroom mirrors with ample counter space, spacious desks and bedside charging stations. On-site and valet laundry services offer added convenience for families and long-stay guests.
Olive's, is our NEW modern American bistro with a Mediterranean flair. Featuring a daily breakfast buffet and local favorites, including hearty salads, crab cakes, and juicy steaks. Our daily Happy Hour is one not to be missed! With local brews on tap and over 30 wines by the glass, you are sure to find a favorite.
Come and explore the newest hot spot Montgomery County has to offer!
Venue Information
Accessible Rooms
Bar on Site
Bar On Site
Business Center
Carry Out
Catering Available
CDC Recommended Cleaning Procedures
CDC Recommended Cleaning Procedures
Closest Metro Stop: Twinbrook - Red Line
Complimentary WiFi in rooms
Concierge
Contact Barriers in Place
Convenience Store
Cost of Internet per day: Complimentary
File Upload - Health & Safety Policy: https://MontgomeryCounty.simpleviewcrm.com/sched/getfilebykey.cfm?filekey=9944afa0-f2a3-4cbf-804d-83960bcd9131
Fitness Center
Hand Wash/Sanitizer Stations
Hand Wash/Sanitizer Stations
Handicap Accessible Facility
Health Related Staff Training
Health Screening Required-Staff
Hours of Operation: 24/7
Laundry Facilities On-Site
Limited Elevator Occupancy
Limited Services
Masks Provided
Masks Required
Masks Required-Guest
Masks Required-Staff
Metro Accessible
BWI Airport: 26 mi
Dulles DCA Airport: 15 mi
Dulles IAD Airport: 19 mi
Mobile Payments Accepted
Mobile Payments Required
No Contact Services
Non-Smoking
Online Orders Available
Open For Business
Parking Fee
Parking Rate: $ 15.00
Reduced Occupancy/Occupancy Limits
Reservations Required
Restaurant On Site
Room Service
Sneeze Guards/Contact Barriers
Social Distance Furniture Configurations
Social Distance Guidelines Enforced
Social Distance Gym Configurations
Social Distance Markings/Signage
Social Distancing Guidelines Enforced
Takeout Available
Virtual Events
Walking Distance to Metro Stop: 200 ft
Wedding Planner Available
Space Information
| | |
| --- | --- |
| Dimensions | 30' × 26' × 10' |
| Area | 808 ft2 |
| Banquet Seating | 40 |
| Classroom Seating | 30 |
| Reception Seating | 40 |
| Theater Seating | 40 |
| | |
| --- | --- |
| Dimensions | 12' × 12' × 9' |
| Area | 144 ft2 |
| | |
| --- | --- |
| Dimensions | 11' × 12' × 9' |
| Area | 132 ft2 |
| | |
| --- | --- |
| Dimensions | 27' × 23' × 10' |
| Area | 610 ft2 |
| Banquet Seating | 40 |
| Classroom Seating | 24 |
| Reception Seating | 40 |
| Theater Seating | 40 |
| | |
| --- | --- |
| Dimensions | 38' × 60' × 10' |
| Area | 2,280 ft2 |
| Banquet Seating | 150 |
| Classroom Seating | 120 |
| Reception Seating | 220 |
| Theater Seating | 260 |
| | |
| --- | --- |
| Dimensions | 30' × 35' × 10' |
| Area | 1,050 ft2 |
| Banquet Seating | 60 |
| Classroom Seating | 40 |
| Reception Seating | 80 |
| Theater Seating | 80 |
| | |
| --- | --- |
| Dimensions | 22' × 36' × 9' |
| Area | 792 ft2 |
| Banquet Seating | 50 |
| Classroom Seating | 30 |
| Reception Seating | 50 |
| Theater Seating | 50 |
| | |
| --- | --- |
| Dimensions | 27' × 36' × 10' |
| Area | 954 ft2 |
| Banquet Seating | 60 |
| Classroom Seating | 40 |
| Reception Seating | 60 |
| Theater Seating | 70 |
| | |
| --- | --- |
| Dimensions | 21' × 31' × 9' |
| Area | 770 ft2 |
| Banquet Seating | 40 |
| Classroom Seating | 24 |
| Reception Seating | 40 |
| Theater Seating | 40 |
| | |
| --- | --- |
| Dimensions | 40' × 36' × 10' |
| Area | 1,440 ft2 |
| Banquet Seating | 80 |
| Classroom Seating | 80 |
| Reception Seating | 120 |
| Theater Seating | 150 |
| | |
| --- | --- |
| Dimensions | 22' × 35' × 9' |
| Area | 770 ft2 |
| Banquet Seating | 50 |
| Classroom Seating | 30 |
| Reception Seating | 50 |
| Theater Seating | 50 |
| | |
| --- | --- |
| Dimensions | 30' × 35' × 10' |
| Area | 1,050 ft2 |
| Banquet Seating | 60 |
| Classroom Seating | 40 |
| Reception Seating | 80 |
| Theater Seating | 80 |
| | |
| --- | --- |
| Dimensions | 26' × 25' × 10' |
| Area | 650 ft2 |
| Banquet Seating | 40 |
| Classroom Seating | 30 |
| Reception Seating | 40 |
| Theater Seating | 40 |
| | |
| --- | --- |
| Dimensions | 50' × 109' × 14' |
| Area | 5,450 ft2 |
| Banquet Seating | 440 |
| Classroom Seating | 300 |
| Reception Seating | 550 |
| Theater Seating | 500 |
| | |
| --- | --- |
| Dimensions | 38' × 50' × 14' |
| Area | 1,900 ft2 |
| Banquet Seating | 120 |
| Classroom Seating | 100 |
| Reception Seating | 200 |
| Theater Seating | 200 |
| | |
| --- | --- |
| Dimensions | 74' × 50' × 14' |
| Area | 3,700 ft2 |
| Banquet Seating | 240 |
| Classroom Seating | 200 |
| Reception Seating | 360 |
| Theater Seating | 360 |
| | |
| --- | --- |
| Dimensions | 36' × 50' × 14' |
| Area | 1,800 ft2 |
| Banquet Seating | 120 |
| Classroom Seating | 100 |
| Reception Seating | 200 |
| Theater Seating | 200 |
| | |
| --- | --- |
| Dimensions | 71' × 50' × 14' |
| Area | 3,550 ft2 |
| Banquet Seating | 240 |
| Classroom Seating | 200 |
| Reception Seating | 360 |
| Theater Seating | 360 |
| | |
| --- | --- |
| Dimensions | 35' × 50' × 14' |
| Area | 1,750 ft2 |
| Banquet Seating | 120 |
| Classroom Seating | 100 |
| Reception Seating | 200 |
| Theater Seating | 200 |
| | |
| --- | --- |
| Dimensions | 47' × 43' × 10' |
| Area | 2,021 ft2 |
| Banquet Seating | 120 |
| Classroom Seating | 100 |
| Reception Seating | 150 |
| Theater Seating | 200 |
| | |
| --- | --- |
| Dimensions | 27' × 23' × 10' |
| Area | 610 ft2 |
| Banquet Seating | 40 |
| Classroom Seating | 24 |
| Reception Seating | 40 |
| Theater Seating | 40 |
| | |
| --- | --- |
| Dimensions | 44' × 46' × 10' |
| Area | 1,974 ft2 |
| Banquet Seating | 160 |
| Classroom Seating | 100 |
| Reception Seating | 180 |
| Theater Seating | 200 |
| | |
| --- | --- |
| Dimensions | 102' × 35' × 10' |
| Area | 3,570 ft2 |
| Banquet Seating | 260 |
| Classroom Seating | 200 |
| Reception Seating | 360 |
| Theater Seating | 360 |
| | |
| --- | --- |
| Dimensions | 62' × 35' × 10' |
| Area | 2,170 ft2 |
| Banquet Seating | 150 |
| Classroom Seating | 140 |
| Reception Seating | 200 |
| Theater Seating | 220 |
| | |
| --- | --- |
| Dimensions | 22' × 35' × 9' |
| Area | 770 ft2 |
| Banquet Seating | 50 |
| Classroom Seating | 30 |
| Reception Seating | 50 |
| Theater Seating | 50 |
| | |
| --- | --- |
| Dimensions | 26' × 25' × 10' |
| Area | 650 ft2 |
| Banquet Seating | 40 |
| Classroom Seating | 30 |
| Reception Seating | 40 |
| Theater Seating | 40 |
| | |
| --- | --- |
| Dimensions | 27' × 47' × 10' |
| Area | 1,269 ft2 |
| Amphitheater Seating | 1 |
| Banquet Seating | 40 |
| Classroom Seating | 78 |
| Reception Seating | 40 |
| Theater Seating | 100 |
| | |
| --- | --- |
| Dimensions | 22' × 35' × 9' |
| Area | 770 ft2 |
| Banquet Seating | 50 |
| Classroom Seating | 30 |
| Reception Seating | 50 |
| Theater Seating | 50 |