Montgomery County, Maryland hosts numerous of annual festivals and special events. Listed below are September 2017 festivals and events throughout various communities of the county. All dates, prices, and activities mentioned are subject to change, please check the respective website or call to confirm information.
There's something going on every weekend in September!
Labor Day Events and Festivals
From Labor Day Parades to wine festivals and art shows find events and festivals happening throughout Labor Day Weekend.
Silver Spring – Takoma Park Restaurant Week
The Silver Spring-Takoma Park Restaurant Week is a six day celebration that highlights the variety of delicious fine dining options available in the greater Silver Spring area and Takoma Park. Participating restaurants will offer diners special two and three course menus at fabulous prices. Choose from: $12 two-course lunch menu; $17 three-course lunch menu; $17 two-course dinner menu; $27 three course dinner menu
When: Tuesday, September 5-10, 2017
Where: Participating restaurants in the Silver Spring and Takoma Park area
Silver Spring Jazz Festival
The Silver Spring Jazz Festival is a free annual event in Downtown Silver Spring featuring a variety of jazz performances. The performances are held outdoors so bring a blanket and/or beach chair. A wide variety of food will be available to purchase from local restaurants. The festival will feature an explosive mix of jazz, rock, classical, jam band influences and Afro Cuban and world rhythms.
When: Saturday, September 9, 2017 | 3-10 PM
Where: Veterans Plaza – 1 Veterans Pl, Silver Spring, MD
Carnival of Chocolates
The Annual Carnival of Chocolates includes chocolate tastings from local chocolatiers, a kids fun run (100 yard dash), live music, games, and two children's story times. Proceeds will benefit The Dwelling Place.
When: Saturday, September 9, 2017 | 1-5 pm
Where: Rockville Town Square – 30 Maryland Ave Rockville, MD 20850
Festival Salvadorenisimo
The grand celebration of the Salvadoran Independence Day Festival coincides with Hispanic Heritage Month and features a rich display of traditional food, music, and culture. More than 20,000 people will congregate to support and enjoy the official independence festivities and the featured star performers.
When: Sunday, September 10, 2017 | 10am – 8pm
Where: Montgomery County Fairgrounds – 500 Perry Parkway Gaithersburg, MD 20877
Takoma Park Folk Festival
The Takoma Park Folk Festival celebrates the cultural diversity of the region by offering music shows by musicians from all over the world. Featuring traditional folk and dance forms by specialized performers. There are many stage performances in which the audience can also participate. There are various stages designed for the kids to enjoy music along with musical games and dancing. It also has a wide variety of ethnic food and artifacts to offer to its visitors.
When: Sunday, September 10, 2017 | 10:30am – 6:30pm
Where: Takoma Park Middle School – 7611 Piney Branch Road Silver Spring, MD
Latin American Film Festival
The AFI Latin American Film Festival showcases the best filmmaking from Latin America and, with the inclusion of films from Spain and Portugal, celebrates Ibero-American cultural connections. The Film Festival is one of Washington's top cultural events – don't miss your chance to mingle with filmmaker guests and toast with the embassies.
When: Thursday, September 14 – October 4, 2017
Where: AFI Silver Theatre – 8633 Colesville Road Silver Spring, MD 20910
Silver Spring Health & Wellness Expo & Dance Fitness Festival
The Annual Silver Spring Health and Wellness Expo & Dance Fitness Festival, under the tagline "Know Your Numbers" and "Move Your Body" is a free public OUTDOOR event committed to building a healthier and stronger community in partnership with other health care providers, fitness professionals, health educators, businesses, and non-profit organizations to empower, inspire and motivate the public to make healthier lifestyle choices. The goal is to educate people on the importance of knowing their health numbers and how to keep their numbers in a healthy range in order to reduce the chances of a heart attack, stroke, kidney failure and other preventable health conditions and diseases.
When: Friday, September 15, 2017 | 1-9pm
Where: Veterans Plaza – 1 Veterans Pl. Silver Spring, MD 20910
Salsa & Bachata Block Party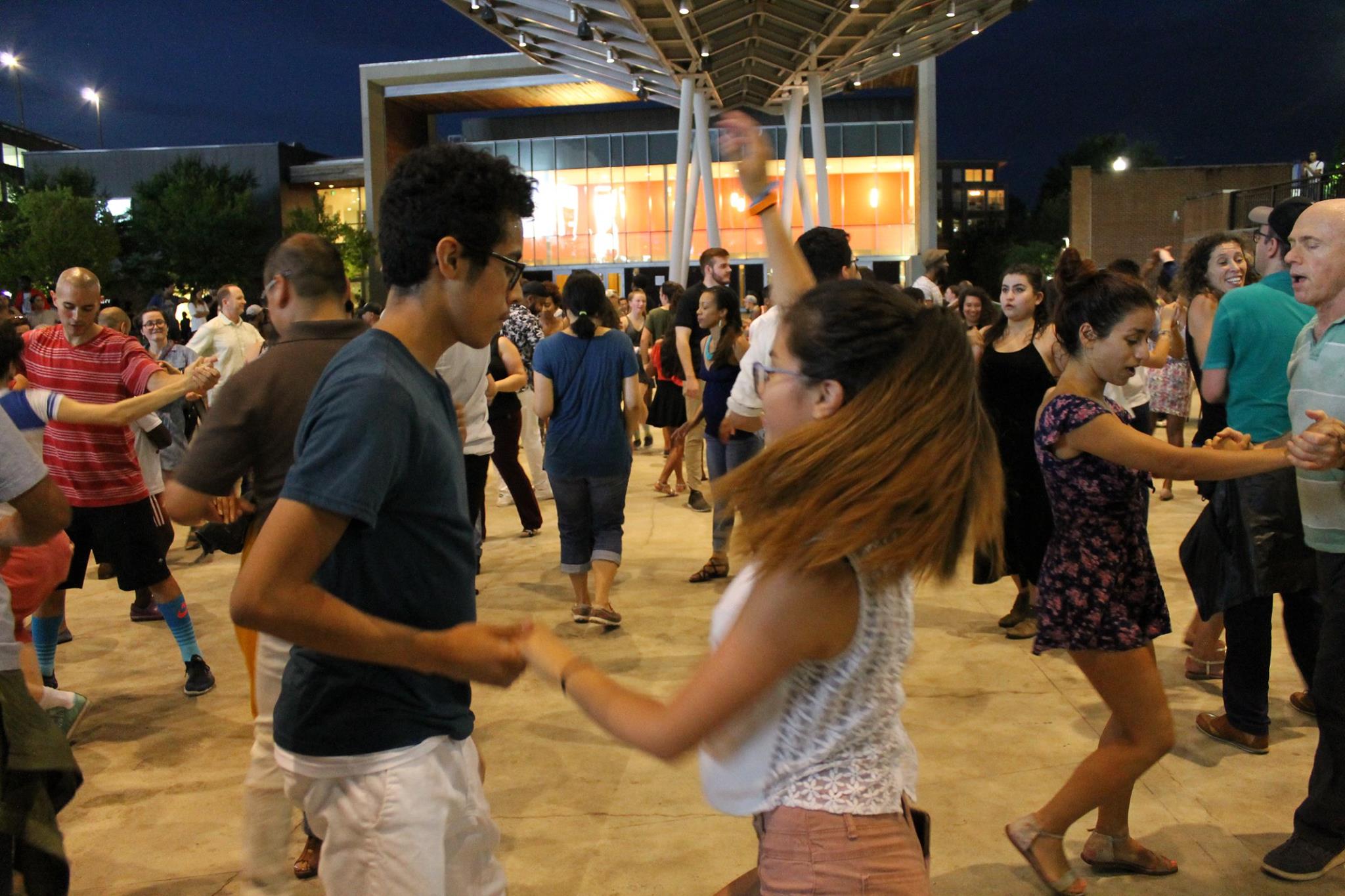 If you haven't heard, Downtown Silver Spring hosts some of the best street/block parties in the Washington, DC area! Don't miss another fun block party. ALL are welcome! The Salsa & Bachata Party is a free family friendly event to close off the Silver Spring Dance Fitness Festival taking place that same day, at the same venue.
When: Friday, September 15, 2017 | 5-9pm
Where: Veterans Plaza – 1 Veterans Pl. Silver Spring, MD 20910
Poolesville Day Festival
The Historic Town of Poolesville, MD will host its 25th Annual Poolesville Day festival. The festival features  a parade, antique and electric car show, amusement rides and games, awarding winning food and vendor booths and live bands performing throughout the day.
When: Saturday, September 16, 2017 | 10am – 4 pm
Where: Whalen Commons – 19701 Fisher Ave. Poolesville, Maryland 20837
Hometown Get Down
The Hometown Get Down, is an annual music and arts festival. Our main purpose of The Hometown Get Down is to help families in crisis through promoting the arts. Event proceeds as always will go to benefit: The Bernie House. The Bernie House is a transitional housing program for families fleeing domestic violence. It's clear mission is: "providing a safe home without violence for families in crisis."
When: Friday, September 22, 2017
Where: 11820 Hawkes Rd. Clarksburg, MD
Pan-African Cultural Festival
The annual Pan-African Cultural Festival is part of a series of events commemorating September as African Heritage Month in Montgomery County. The festival is designed to showcase the rich and diverse cultures of African countries. Celebrate African Heritage Month in Silver Spring as we recognize the African Union day and the critical relationships between the United States and African nations.
When: Saturday, September 23, 2017
Where: Veterans Plaza – 1 Veterans Plaza, Silver Spring, MD 20910
KIDfest
KIDfest is the DC Region's Premier family festival celebrating making, creativity, and innovation. Join us for dynamic hands-on activities, amazing demos, and inspiring KIDtalks. Delve into science, technology, engineering, and art, and discover the power of making. Free and fun for kids and adults of all ages.
When: Sunday, September 24, 2017 | 12-5pm
Where: Veterans Plaza – 1 Veterans Place, Silver Spring, MD 20910
Butler's Orchard Pumpkin Festival
Butler's Orchard hosts an annual Pumpkin Festival held every weekend throughout October. Admission includes hayrides to and from the pumpkin fields, exploring the learning stations, jumping in the hayloft barn, swooshing down the giant slides, visiting barnyard animals, exploring the straw maze, riding the pedal tractors, playing the rubber ducky derby, riding the pumpkin coach, crawling over the spider web, and more!
When: Opening Day – Saturday, September 30, 2017 – every weekend in October | 10am – 5pm
Where: Butlers Orchard – 22222 Davis Mill Road, Germantown, MD 20876