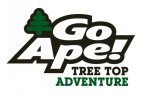 Address
6129 Needwood Lake Drive, Derwood, MD 20855
Phone
800-971-8271
800-971-8271
Website
goape.com
Escape the Office at Go Ape!
Take your tribe out of the office and into the trees! Go Ape is a tree-mendous way to treat the team to a day full of adventure, team building, and staff bonding for groups of all sizes.
The Go Ape Experience
Your group will be equipped with harnesses, pulleys and carabiners, and given a 30 minute safety training and then let loose into the forest canopy, free to swing through the trees.
We offer a group discount to any party over ten (10) participants and can accommodate groups of 100+.
Space is limited and availability cannot be guaranteed without a reservation for your entire party.
Group Discount: 20% off on weekdays (Monday – Friday) or 10% off on weekends (Saturday – Sunday) to groups with at least 10 participants.
*Use code "CORP20" for Treetop Adventure when booking for a weekday.
*Use code "CORP10" for Treetop Adventure when booking for a weekend.
To receive the group rate, all participants must be booked under the same reservation and only one method of payment can be taken. For assistance booking a larger group, please email groups@goape.com.
Preview our availability for groups here. On a day that we are closed, we are happy to open the course for groups of 30 or more with advance notice. Email groups@goape.com to explore this possibility.